Visit us at our booth!
HanseMerkur is represented at the most important tourism fairs in Berlin, Cologne and Friedrichshafen. Take the opportunity to meet our team in person and get to know what's new and interesting first-hand. We look forward to seeing you!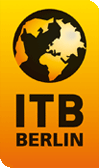 ITB Berlin 2024: "The world's leading travel trade show"
The world conducts business here
The whole world meets at the ITB Berlin: People who work in the travel industry and people who would like to obtain information about the most beautiful travel destinations. A combined specialist exhibition and trade fair for the general public ist the largest specialist trade fair in the world attracting tens of thousands of visitors, exhibitors and media representatives every year. HanseMerkur travel insurance has been an exhibitor at the ITB in Berlin for more than 35 years. We are looking forward to the most successful tourism trade fair in the world at the exhibition site in Berlin.
ITB The world's leading travel trade show in Berlin.
5th – 7th March 2024 in Berlin

RDA Travel Expos 2023 and 2024: The leading trade fair for bus / coach tourism
Since 1975, the tourism industry has had a "jour fix" in the late summer: The RDA workshop in Cologne is the industry meeting point for companies operating in the European bus / coach travel market. Service providers from various tourism divisions present their ideas and products for the business of tomorrow, in Cologne's largest exhibition halls. Everything is possible: To detect new trends, gain an overview, establish and maintain contacts, compare services, place orders, exchange experience, be inspired - this can be done in one place and within a short period of time. As a market leader in bus / coach tourism HanseMerkur travel insurance has also been taking part as an exhibitor in this successful industry meeting for more than 25 years.
RDA The international travel exhibitions for coach and group tourism in Cologne.
25th - 26th April 2023 in Cologne
23rd - 25th April 2014 in Cologne